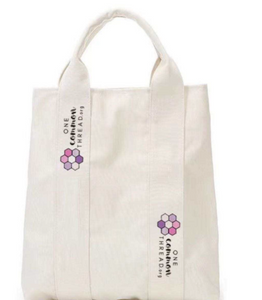 Canvas Tote Bag
Unique Canvas tote bag with the One Common Thread Logo.  This bag has one inside pocket and  has a zip closure with two handles.    The logo is printed on both sides of the bag.  It is a fun bag with a 5" drop on the handle.  
Measurements:  
14" w x 20" h x 3" d

Size:  
Large Size

Your purchase helps us to create sustainable funding to hire women living in poverty in Honduras. As is the case with any quilt, this is a labor of love and we appreciate your support in helping mothers and daughters living in poverty in San Pedro Sula, Honduras.
Do us a favor and post your finished product to Instagram and tag us! @onecommonthreadquilts