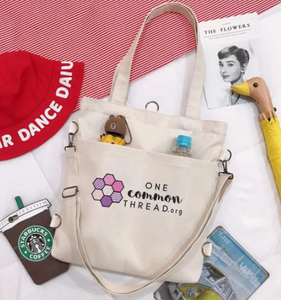 Canvas Tote Bag
Unique Canvas tote bag with the One Common Thread Logo.  This bag has two pockets on the front of the bag and one pocket on the inside.  It has a zip closure and two handles.  One handle converts the tote to a back pack.  This bag is what we use for our hexagon quilt kits. 
Measurements:  
12" w x 16" h x 2" d

Size:  
Medium Size

Your purchase helps us to create sustainable funding to hire women living in poverty in Honduras. As is the case with any quilt, this is a labor of love and we appreciate your support in helping mothers and daughters living in poverty in San Pedro Sula, Honduras.
Do us a favor and post your finished product to Instagram and tag us! @onecommonthreadquilts